For all questions about the project please contact KF Hannes Deetlefs, Chair KEP, Kiwanis Switzerland-Liechtenstein, KC Wattwil-Toggenburg: E-Mail or +41 (0) 79 222 82 32
See the news for the newest details!



To see what we experienced in Albania with KEP on September 1st, click here!
Press Release English
The same text in Albanian!

200 Leke (One Euro = 120 Leke)
Kiwanis Education Programme:
"Kiwanis Tour de Suisse"
for
"Project brighter Future"

Word of Marcel Kreienbuehl
Chairman KEP KIWANIS Schweiz-Liechtenstein,
Report on the visit of Albania on April 9th, 2007
More about the City of Shkodër
I would like to come along with you!
Details of the Project
Who transports everything for us?
Details to the Departure on August 28th at 10 o'clock am,
Route

Please click above for more information!
Thanks to the firm HEBERLEIN GRAPHICS Ebnaterstr. 79 CH 9630 Wattwil
Tel. +41 71 987 1046 Fax +41 71 987 1019 info@heberlein-graphics.ch
we have an own Kiwanis-KEP- Banner!


Report on Visit to Albania in April 2007
Please click on the sentence above to reach the report!

We want to thank:
The Kiwanis International Foundation for the donation of
8000 US Dollars
and the Kiwanis International European Federation and it's KEP Committee for the donation of
4000 Euro.

Luetisburg, August 21st, 2007
I like to inform you about the newest developments on KEP

Saturday, September 1st, 2007 there will be a big festival in Skhodër
in the very good Restaurant Tradita with it's very active owner, Gjion Dukgilaj in the presence of all "VIP-s". This will be the start of the Club "Kiwanis-Shkodër" (Sponsoring Clubs: Kiwanis Wattwil-Toggenburg and another Club from Switzerland-Liechtenstein. Question: Who wants to help here?)
Projekt 1 of KEP: School in Skhodër, Albania, for 2 x 500 Students (500 in the morning, 500 in the afternoon)
Collection: School tables, school chairs, teacher's tables, chairs, böack boards etc.
Projekt 2 of KEP: Shkodër, Schule for handicapped students: Schoolbus, 25 seats, furniture
Projekt 3 of KEP: A Donation for 3 children playgrounds in the city of Shkodër of 1'080 Swiss Francs was made on June 2nd, 2007 by KEP, Kiwanis Switzerland-Liechtenstein. Photos to follow!
Projekt 4 of KEP: Starting od the Kiwanis Club "Kiwanis Club Shkodër"
What we need:
1 . Donations
2. Another club in Switzerland-Liechtenstein helping the "Kiwanis Club Shkodër"


Back to the top
And here are the Details of the Visit of Albania:
To start with: What is "Shkodër"?
Shkodër is one of the biggest cities of Albania and is placed between the rivers Drini and Buna. The city is rich in historical attractions. It was foundet in the IV. century bC. It wa<s the capital fot the Illyrirans of Labeats and later on the capital of the Illyrianian states during the reign of King of Gent. During the XIV. century it was the capital of the Princedom of Bushatlinj. 1396 the city was occupied by Venice.
There are many things to be seen in this city. Caracteristic are the small streets with walls on both sides. The most interesting parts are the suberbs of Serresh and Gijadol. Most important are, however, are the ruins of the Castle of Rozafa. (See above)


Back to the top
Come along with us!

Don't forget: Swiss Pass or Identity Card!


The bus of KF Balz Störi, KC Wädenswil with 15 seats
For only 100 Swiss Francs per person to Shkodër retour you can join us on the bus of KF Balz Störi (KC Wädenswil). We expect from you only to help us in "guarding" of the trucks and, maybe, helping in the offloading of the trucks. We welcome every Kiwanian joining us. There are no great costs involved: Own Hotel costs, for example: http://www.colosseohotel.com/english/index.html ) and a small amount for the festival (...should be inexpensive, we are not in Zuerich!) You need your own assurance coverage and, if you want, your flight back. Please call or write to my E-Mail address or call at 079 222 82 32 if you want to join us, so that we can arrange things! The Fr. 100.- will be collected by KF Balz. My own trailer will be coupled to the bus for luggage. In the bus you have the security of the Swiss "Teil-Kasko".
We go back by bus through Montenegro, a trip of 1'700 km and should arrive back in Switzerland on Monday, September 3rd.


Back to the top

Who transports our Furniture?
We now started KEP in the truest sense of the word: Some information:

We operate with real proud trucks of the following firms
Gafner AG from Gwatt-Thun with KC Urs Gafner (KC Thun) and the
SLT Speditions EST , with KC Bryan Jeeves from Schaan, (KC Lichtenstein)

The following firms helped us to collect the material in Switzerland as such and to bring the material to the storage rooms in Thun and Rorschach:
Landolt Transport AG from Pfäffikon SZ with KF Armin Landolt (KC March Hoefe) and KF Armin Meier (KC Sihltal-Zürich)

Crane work: Caduff SA Tavernase




Montalta Transport aus Illanz
Martin Montalta Postfach 49 CH-7130 Ilanz Tel. +41 (0)81 925 15 40 with their driver Gion-Tumasch Tschuor

Leaving for Albania:

When::
Tuesday, August 28th, 2007 at 10 o'clock am:
The trucks arrive, media event.
Where: Schaan at 7 Bahnhof Street, next to the Post Office Schaan
The Traffic Departement of Schaan will see to it that the parking space for 2 Trucks of the firm
SLT Speditions EST
and for the two busses is being kept clear. The one bus is for the School for the handicapped in Shkodër, the second bus is the bus of KF Balz Stoeri and is the bus for all the Kiwanians comming with us. It has a trailer for the luggage.
Media event, from Schaan with
Mrs Teresia Müller
. We are represented by
Mrs Adi Lippuner
.
At 11h30 / 12h00:

Lunch
together with
Governor Kiwanis Schweiz-Liechtenstein, KF Peter Jaeggi
and

KF Wahib Aladin, Trustee Kiwanis International Foundation and Chairman of European Committee Kiwanis Education Programm
as well as

Club KC Liechtenstein and their President KF Ralph Wanger
and KF
KC Bryan Jeeves
and Manfred Müller (SLT Speditions EST)

in Hotel Sylva in Schaan.
We leave for Albanien at approx. 2 o'clock pm.
This is to ensure that the trucks are able to cross the border Chiasso / Como before they close for the night. At the boarder the truck of Urs Gafner (
KC Thun
) from Thun will join us.
Back to the top
Route:

Tuesday, August 28th:
Schaan – Chiasso /Como, maybe as far as Verona. The drivers sleep in their trucks, we look for a hotel in the vicinity, without reservation, so that we can be flexible.
Wednesday, August 29th:
Verona – Bari: Ferry Bari – Durrës during the night or on Thursday
Thursday, August 30th:
Arrival in Durrës, Customs
Friday. August 31st:
Customs, then we leave for Shkodër. The trucks are protected by an Police Escort.
For those travelling with us:
Free day with both busses
, Tirana could be visited. Great chance of meeting the to-be members of the new club,
KC Shkodër
and the members of
KC Tirana
. We sleep in a good hotel.
Special Price: 50 Euro per night per double room, one person per room
Example: http://www.colosseohotel.com/english/index.html
Saturday, September 1st:
Offlaoding of the trucks,
visiting Shkoder
, having a good look at the ruins of the castle of Shkodër,
in the evening festival with the prospective members of KC Shkodër
(27 Members) in a romantic building from the middle ages and with a very good cook:
Restaurant Tradita with it's very active owner, Gjion Dukgilaj.
Sunday, September 2nd:
Return of the trucks to Switzerland as well as the Bus of KF Balz. All travel independetly. Alternative: Going by Plane to Zuerich: Transfer to the airport Tirana at no extra cost, leaving at 06h15 to Munich and Zuerich.
And what could we do also?
We still need some extra financing:
Please contact or cashier Claudio Rageth, (G: 071 858 28 42, H: 071 983 41 20)


KC Weinfelden organised a Bus for handicapped students
We still need another sponsoring Club for the KC Shkodër 27 prospective Members!

Back to the top
Planning details :
Important Telephone number: Hannes (KC Wattwil-Toggenburg) (079 222 82 32)

And this is how we are loading:
Friday, 3. 08.:
KC Gossau-Flawil
Armin Meier of Landolt Transport AG, Pfäffikon (G:055 410 10 10, M: 079 277 84 53), our friend Tony Pero, Pizzeria, Bazenheid

Satisfaction: Everything is aboard!




Unbelievable: The size of the truck! 92m2!




KF Markus Waltersperger (KC Gossau-Flawil) and his son with the 176 chairs...



Our youngest members, both of KC Wattwil-Toggenburg(?), Dana, 9, give Kiwanis a push!




Naima, 7, is very active, too!


Saturday, 4.08:
KC Dornach

No, no, this only happened after the serious work!!!
Only then we found some time for "feasting"!
And Urs, the"Chief of the Place", the Gymnasium, really saw to it that the work was being done properly!!!


After that we moved to Gelterkinden...
KC Basel-Merian


The truck was loaded to the limit, we even thought of loading and fastening some of the tables on the roof of the truck!!! This is stricktly forbidden in Switzerland!




EsteherFreivolgel loaded Computers. They were loaded on the trailer and into the car belonging to Hannes.


Back to the top

KC THUN: Firm Urs Gafner

We left for Thun but had a lot of traffic and quite a few traffic jams... We needed far more time for the trip than anticipated, time of waiting again for dear KF Urs Gafner in Thun. This was not good at all for him because Urs had an urgent appointment somewhere else. Because of the fact that we have holidays now we could not find anyone willing to help at the time we arrived in Thun, we had three people to offoad the truck. Driver Bruno and driver Armin worked without stopping and at an amazing speed: After one hour and fourty minutes the truck was empty. After that we had "lunch" at 4 o'clock pm!!!!




The storage room of KF Urs Gafner in Thun.



At last!!! The two are the hros of the day!!


Back to the top

What we've got up to now (...and there is still very much more to come!):


Blackboards, adjustable, 5 pieces (Rorschach)

Student's tables with two falpsn, 16 pieces (Rorschach)


20 pieces (Thun)

1 piece (Thun)

3 pieces (Thun)

6 pieces (Thun)


Foldable table, 20 pieces (Thun)

Cupbaord, 1 piece (Thun)

Student's tablest, 37 pieces in Thun, 4 in Rorschach

66 picesk in Thun, 24 in Rorschach

Stapelable chairs: 176 pieces in Thun

Table, Metal, 51 (Thun) 1 piece (Rorschach)

Bus
Back to the top

Friday, August 24th
KC Weinfelden



The School Bus for mentally handicapped Children was received by KFHannes Deetelfs on Friday, 24th August 2007
Monday, August 27th:
KC Rorschach-Sulzberg
SLT Speditions EST Truck 1
09h30: Arrival in Rorschach on th epremises of the Evnagelical Church
Loading of a variety of school furniture and black boards
After that we move to the "Hochschule für angewandte Wissenschaften" in Rorschach

Loading of Truck 1 with School Furniture of a general nature, including the material from the Surselva.
11h00: Refreshments
11h30: Truck 1 leaves for Schaan
KC in Zuerich
SLT Speditions EST truck 2

Organisation and Customs:. Mr. Manfred Müller
Mr. Bamert, Zürcher Kantonalbank Projektleiter Raum, LDG1 Ringstrasse 18, 8600 Duebendorf (He is on hiliday until August 20th)
09h30:: Arrival ZürichTruck 2, Kantonalbank.
Loaing of a variety of office furniture, office desks, 2 conference rooms. The furniture will be placed on a certain spot on the premises for easy loading. We only have to load the furniture.
10h45: Refreschments
11h15: Truck leaving for Schaan
Back to the top
KC Surselva

It all started at 7 o'clock in the morning: Work for a huge crane was the issue:
Because of the very efficient handling of KF Damian Tomachett all went as planned!!




Am the President, KF Gabriela Tomaschett and KF Eugen Monn
of the KC Surselva "woked like hell":




Finally: We succeeded!!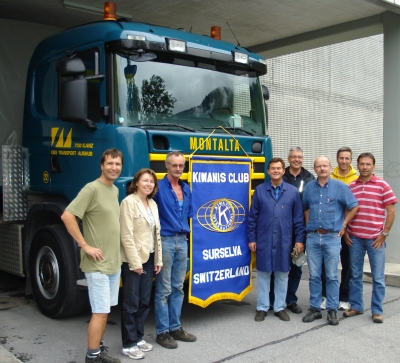 Von links nach rechts: Damian Tomaschett, Gabriela Tomaschett Gion-Tumasch Tschuor,Claudio Simonet, Mathias Bundi, Reto Bearth, Ruedi Frehner, Eugen Monn
But, alas, there was more work in store: After two hours of travlling we started all over again: In Rirschach we had to offload the truck! And, again, three owf our dera Kiwqanisn Friends from KC Rorschach-Sulzberg helped us (hm,...had to help us)!



At last, empty again!!!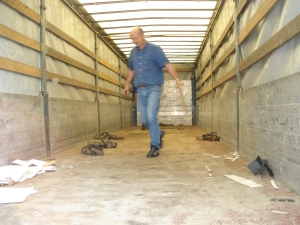 Back to the top
All Clubs, especially the KC Sihltal-Zürich, are coordially invited to a meeting in Vaduz:
Tuesday morning at 10 0'clock, August 28th: Departure
This occasion is the highlight and will be treated as such by the media.
Tuesday, August 28th, 2007: Leaving for Albanien with the trucks and the bus at about 2 o'clock pm.
There 5 Kiwanis Members travelling with us by bus.We've got two Experts for Computers and one Expert for the assembly of the very complicated big black boards. (4 metres long and can be raised and lowered without effort)

Wednesday, August 29th, 2007: Transfer Bari-Dürres
We've booked
Bari – Durres Wednesday, August 29th, 11 o'clock pm
Durres – Bari Sunday, September 2nd, 2007 11 o'clock pm
Saturday, September 1st, 2007: Reception and festival in Shkodër. Founding of the Club KC Shkodër
Sunday, September 2nd, 2007: Back by Bus.

Back to the top

District Chairman International Foundation (2004-2005) KIEF President elect ( 2004-2005) ,
Marcel Kreienbühl

Dear Kiwanis Friends
KEP is the magical word on the European level. Kiwanis Education Program. It is a Program, that should carry education and knowledge to the countries of Eastern Europe. It is important that the youth of those countries has the same chance to be trained and to be helped in order to enable the youth to be constructive elements for their countries in future.
Kiwanis International-European Federation decided three years ago to start a European Program to get the Districts in Western Europe with their infrastructure involved in raising the levels of knowledge and schooling in the countries of Eastern Europe and Central Asia. This programme starts with the supply of school furniture, computer and computer programmes right through to the rebuilding and repair of school buildings in order to enable these countries to run a qualified school system.
KEP is a Programm that fits our Motto "we built" and "Serving the children of the world". Where is our help needed more than here, when it aims at helping the youth to develop a better future.
As Past President of Kiwanis Europe I appeal to you to take part in this program. Our Chair for KEP, Hannes Deetlefs, put quite an amount of work into this project, it has to succeed.
Help us and give the youth of Eastern Europe and Central Asia a better future. Hannes Deetlefs, Chair KEP of the District Switzerland-Liechtenstein can give you all information and help needed.
Yours, Marcel Kreienbühl
Chairman Intern. Foundation
Past President KI-EF
Chair KEP KIWANIS Schweiz-Liechtenstein,

Hannes Deetlefs
Dear Kiwanis Members, now we have got the start of our Project KEP. We are getting active now, and this in the whole of the District of Kiwanis Switzerland-Liechtenstein! Ever singele one of you can help, kan get involved! We will try to eradicate the problems, we will try to helkp the children in Albania to have a better life.
And all of this starts with the smile of students, with the pride of students, with the generation of the future!
This all in the sense of Antoine de Saint -Exupéry:
"If you want to build a ship,
don't call for men to gather wood,
to prepare their tools, don't give to them different jobs.
Tell them something about the jearning for, the love of the wild, endless sea."
What it is all about:
The"Kiwanis Education Programme", KEP, is a project being carried out throughout Europe, this in close co-operation with all Kiwanis Clubs. The aim is to better the mostly catastrophic schooling systems of the neighbouring countries in the Eastern part of Europe. There is a need of practically everything: Schools, buildings, school material, teachers and teacher trainig facilities.

View also the KIWANIS Website Europe
What is needed:
Storage Facilities and Transport in Geneve, Biel, Zurich, Chur, Bellinzona as well as
1. School material: Every Club cab get involved. Large pieces of furniture should be cleaned and taken apart for transport. Breakable things have to be packed, lists have to be made...
2. Storage rooms for storing the furniture
3. Trucks an drivers (I am prepared to drive a truck myself)
5. Kiwanis-Custom experts who know the Custom rules of Albania or could get the details
6. Members who organize the evenings when the furniture is being ciollected. This should be a little feast for the Club involved.
7. Members with own cars travelling with us

Routes und Media:
This will be planned after the receipt of the intentions of the Cluinbs willing to participate. The timea of collection will then also be agreed upon. Centres are Geneve, Biel, Zurich und ev. Bellinzona. We deliver everything to schools in Shkodër in Albania
Finances:
The cashier of KEP is Claudio Rageth (Kiwanis Wattwil-Toggenburg) and can be contacted by e-mail: E-Mail address. The accounting is also published on the website of Kiwanis-Liechtenstein. Every Kiwanian can thus inform him- or herself at every moment about the financial situation.
Website:
Everything will be communicated through the website of Kiwanis Schweiz-Lichtenstein, and this from the start. Photos and descriptions of the various projects, the routes taken by the trucks in Switzerland as well as in Albania, photos the Clubs send in, finances, reports.The aim is to keep everyone informed in great detail as from the end of August 2007

Back to the top

Albania
Short Report
Monday, 9th to Friday 13th April 2007

Some remarks at the start:

I had the luck to find Mr. Kastriot Faci ("THE DOOR"). He can speak English quite well. I found Mr. Faci through the aid of Grete Hvardal. Norwegian Kiwanis. He works with them for years and in this time arranged quite a few deliveries from the Norwegian kiwanis to Albania.
2. We had an interview with the mayor Lorenc Luka. It jas beem quite a constructive interview. Mr Faci translated. Finally Mr Luca wrote a letter to the Governor Kiwanis Switzerland-Liechtenstein asking for help for his own project too, this being plagrounds for the children of Shkodër. They will have a great fund rasinig event on the 1st and 2nd of July, 2007. We are invited to take part in this fund raising event.




3. We then had an interview with the Minister for Education, Loro Mandi. He was very positive, too. He also wrote a letter and explained in it, that: "Together with organisation "The DOOR", Mr. Kastriot Faci and us are willing and able to assist in the importing of the goods from Switzerland to Albania, regarding the Customs Aid Law". This letter was translated into Albanian and sent to all departments.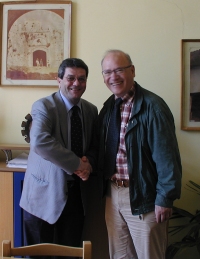 4. I was invited to appear in the TV news. I did not see the reult of the filming, but, according to the reactions of many Albanians I met the following day, it must have been quite good. They will try to send me a copy. This appearance on TV was like magig. Even "my" hotel manager suddenly had a big interest in my doings.

5. I had the opportunity to meet the peolple from the "Swiss Foundation for Development and International Cooperation", 10 Maulbeer Street, 3001 Bern in Shkodar. Mr Pascal Arnold organizes the Development Programm of Shkodër, and the government of Switzerland donated an amount of 3 Million Swiss Francs for this project. He and his assistant for Education and Schools, Mrs Valbona Karaçi agreed to help us in every aspect..




6. We recived an Excel- program with all the neccessary forms etc, that have to be filled out. Mr. Faci, who works with the same program for the project of Kiwanis Norway, gave me a copy, too, so that we know exactly what we have to do to avoid high custom duties.
Projects:
I saw many possibilities to get active, the need is enormous. I decided on the following projects:
1. Shool for handicapped children in Shkodar: Schoolbus, 25 seats. We could even use the bus to transport the ware from Switzerland to Tirana.
2. "Ismael Qemali" School Shkodër. This building actually housers two groups, one group of 500 children going to school in the morning and another group of 500 children going to school in the afternoon. The children are aged from 6 – 15. The Principal is Mr Ymer Vila
He sks for 80 tables, 160 chairs, 20 tables for the teachers, 10 black boards, a photo copying machine,a beamer, books for the school library, help and assistance for the teachers, a Gymn hall, an assembly hall and toilets.




3. We should donate some funds to the project of the mayor on his fund raising day for playgrounds for the children of Shkodër on the 1st of June 2007

Kiwanis Clubs:

• It is quite possible to start a Kiwanis Club in Shkodër. I really stressed the fact that the founding of such a Club would make matters easier for all, and all people in Shkodar I met agreed.
• The Kiwanis Club Tirana (12 members) did not react at first. Even the Pertner Club KC Zurich-Romandie failed to get them so far as to get active. When I met them, they were very careful in their statements. But, we became friends and we had a very constructive evening. They are now more than willing to assist us in our project and in assisting us in the starting of an new Kiwanis Club in Skhodër.

Hannes Deetlefs, 14th April, 2007
KC Wattwil-Toggenburg
To the contact form for the KEP program
Join us! We do not only help children, we also help Kiwanis!